There's a reason fire pit tables, or simply fire tables, have become so popular. People love them because they're beautiful pieces of furniture that also radiate pleasant heat from their inviting flames. 
Many are lined with lava rock or fire glass that add even more beauty and glow to the table.
Fire tables are used to cook, toast marshmallows, have conversations over, and in many ways you'd use a regular table. They're great for keeping hot drinks at the perfect temperature.
But the biggest reason people choose fire tables is because they keep us warm at a superior level without the hassle of maintaining a wood fire or an ashy, sooty pit.
All fire pit tables will radiate some form of heat. The amount of heat varies depending on what type of table you buy. The hottest fire tables are massive, permanent, and made of high-quality materials like reinforced concrete and granite. Most home options give off plenty of heat for cold nights.
Do Fire Pit Tables Give off Heat?
Fire pit tables do indeed give off heat. As they have fire, the output of the fire dictates how much heat they give off. Another factor to consider is how high they are from where you are sitting. They will only heat above the fire, so keep that in mind when choosing out a fire pit table.
How Hot Do Fire Tables Get?
Typically, a fire pit table will reach temperatures of about 800 degrees. 
The output of heat that radiates from a fire is measured in BTUs, or British thermal units.
To put it simply, each BTU is the level of heat required to raise the temperature of 1 pound of water by 1 degree.
Fire pit tables put out anywhere from 30,000 to 100,000 BTUs, with an average range between 50,000 and 70,000 BTUs.
People who prefer fire tables on the lower end of this scale do so because it costs less to run and it doesn't overwhelm its surroundings with strong heat. These tend to be portable and small, like an end table.
On the other hand, people who prefer higher BPU fire pit tables love them because they keep everyone around them very warm. This means you and your family can use your patio or yard much longer into the cold season.
How Many BTUs Do I Need For My Fire Pit Table?
For a small patio that's 550 square feet or less, choose a lower heat fire table that's 50,000 BTUs or less.
That level of BTU will radiate heat 8-10 feet around it. It's the standard level for fire tables and fits well on average-sized decks.
For more luxury and heat radius, choose a large, high heat fire table that is 80,000 BTUs and higher. This will cover a huge radius around it, starting at 1,200 square feet.
Which Type of Fire Pit Table Gives Off the Most Heat?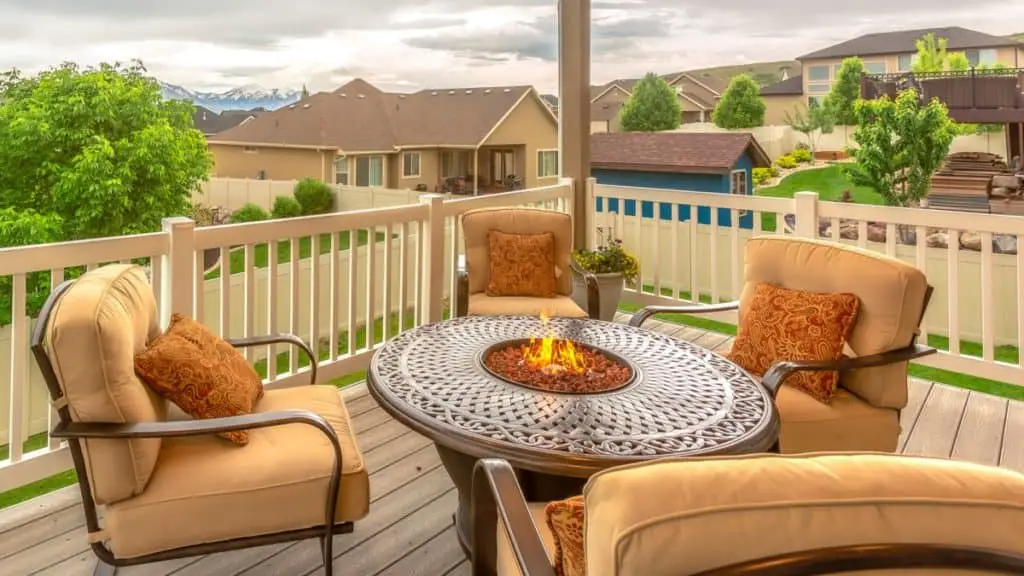 There are certain fire tables that are made to give off more heat than their average counterparts. 
For the fire table that produces the most heat, choose a large, 100,000 BTU pit. This will pack the biggest punch in terms of heat radius. These are very expensive and huge, but are exceptional quality.
The following list are some of the hottest fire pit tables on the market, listed from lower to highest BPUs.
The BALI OUTDOORS Fire Pit Propane Gas Fire Pit Table is 60,000 BTUs and is on the lower end of the high-heat fire tables. If you're looking to keep a small group warm and cozy, this is the perfect size and BTU level. As a bonus, many customers have left glowing reviews about the company's customer service quality.
When you need to warm up bigger groups of people, opt for more BTUs, like the Grey Key Largo Linear Gas Fire Pit Table or Black Uptown Linear Gas Fire Pit Table by The Outdoor Greatroom Company, both of which are 80,000 BTUs. These are best for groups of four or more. 
And for the maximum level of heat, you'd be hard-pressed to find a better option than The Outdoor Greatroom's Cove line of fire tables that emit 105,000 BTUs of heat. These are the hottest fire tables on the market.
As one of the most popular fire table brands on the market, The Outdoor Greatroom fire tables are available at many retailers like Amazon, Wayfair and Home Depot.
Fire Pit Table vs. Patio Heater
Another popular choice for staying warm outdoors is a patio heater. People like them because they are mobile, safe, and easy to fuel.
The drawbacks to patio heaters are that they are poor light sources and they pale in comparison to the beauty of a fire table.
Installing a fire table, on the other hand, instantly turns your patio or deck into a warm and inviting space. People will be drawn into its cozy reach. 
You can also be able to customize the fire pit to fit the aesthetic of your patio or deck perfectly. Fire tables come in a variety of shapes and materials like granite and stainless steel and can be portable or permanent.
A patio heater can typically be used under a covered patio whereas a fire pit table you may not want to use it under a covered patio. Refer to this article for more information about fire pits under covered patios.
Keep in mind a fire pit table will not provide heat under the table. When choosing a table, you may want to opt for a lower table vs a high top to provide more heat to your lower body.
Fire Tables vs. Pits
The traditional outdoorsy person will opt for a wood-burning fire pit in their yard because of its natural appeals, like the crackling noises and rich scent of wood. 
This, however, means you will be cleaning up ash after every burn. On top of that, the crackling can send hot embers flying in every direction and the pits become sooty and dingy over time.
Fire tables, on the other hand, are charmingly clean and safe and can be controlled much easier than a pit. They maintain their appearance for much longer and don't come with the risk of runaway embers. They make up the lack of appeal from a wood-burning flame with gorgeous designs and additional use as a countertop.
Are Fire Pit Tables Safe?
Fire tables are safe, but only if handled extremely carefully. There are always risks when it comes to open flames and high heats, especially 800+ degrees, so follow these tips to keep it a safe experience.
Check local fire safety codes before purchasing and installing a fire table.
Check the manufacturer's guide for details on safe installation and handling.
Never leave a lit fire table unsupervised.
Do not place any flammable items on the fire table. Things like glass cups and ceramic plateware are safe, but keep them as far away from the flames as possible.
Remove potential flammables like porch umbrellas, string lights or overhanging branches.
Never use gasoline or other flammable fluids on your fire table.
Supervise pets and children, keeping them at least 3 feet away at all times.
Always turn off the gas when not in use.
Keep a water source or fire extinguisher nearby.
Sum It Up
All in all, you'd be hard pressed to find a more beautiful and effective form of outdoor heat than a fire table.
They're customizable, safe, and bring the cozy warmth of a fire pit to the patio without dealing with firewood and the ash and smoke that come with its use.
To recap:
For small patios, opt for a small fire table less than 50,000 BTUs
Medium-sized patios are pleasantly warmed with a fire table between 50,000 and 80,000 BTUs
Large patios and spaces are complemented well with fire tables of 80,000 or more
And with the right-sized table and comfy furniture, your deck or patio will be a popular gathering place for many months out of the year.