Luxury vinyl plank (LVP) flooring is known for being stylish, durable, and long-lasting, and this flooring is also widely available and suitable for most households. However, there are a couple of downsides to them. For example, many homeowners are worried if LVP flooring is slippery or unsafe.
Luxury vinyl plank flooring is slippery especially when wet because it's incredibly smooth. However, it can be textured to prevent it from being too slippery. Furthermore, you can place non-slip rugs over the surface. Many manufacturers offer non-slip LVP flooring, though it's a bit more expensive.
Throughout this article, we'll break down why luxury vinyl plank flooring is slippery, what you can do about it, and whether or not it loses its traction.
Why Are Luxury Vinyl Plank Floors Slippery?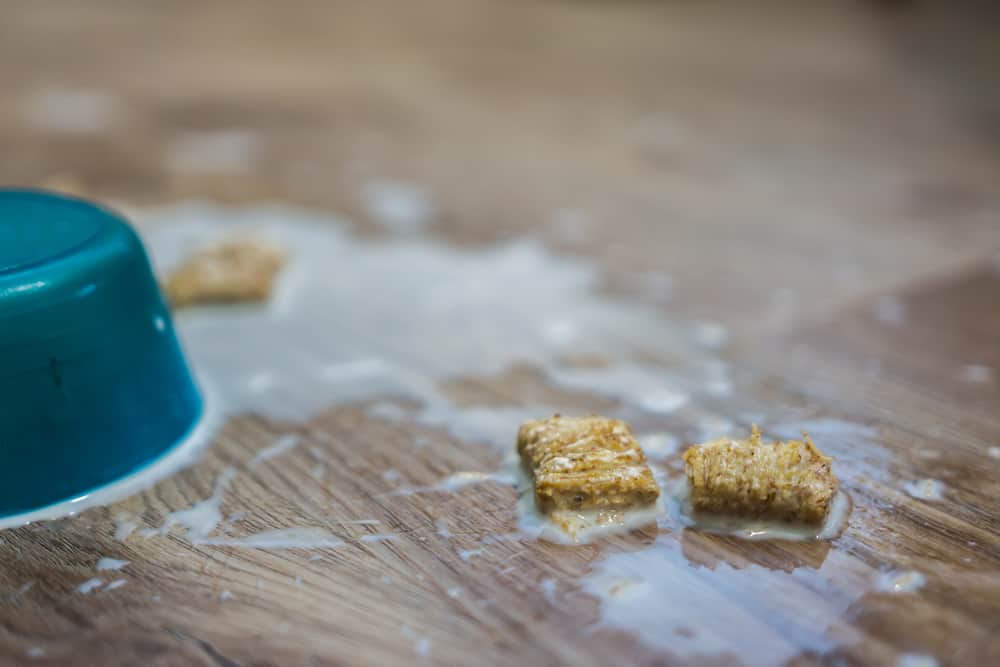 Luxury vinyl plank floors are slippery because they're extremely smooth, flat, and non-textured. Furthermore, LVP floors don't have grout or anything else spacing the planks. Vinyl is naturally slippery, so it's no surprise that these plank floors tend to make people slide around if they're not careful.
Here's an in-depth explanation of each of these examples:
LVP flooring is very smooth. It's one of the main reasons that so many people enjoy it. These planks are soft to the touch and very easy to clean, giving the home a unique, comfortable feel and appearance. However, the flat smoothness also makes it very slippery when you're walking around in your socks.
This type of flooring rarely has texture or elevation changes. Unless you specifically choose textured LVP floors, you won't benefit from textured found in most other types of flooring. The lack of porous grout, small bumps, and other textural changes prevents the planks from stopping unwanted sliding.
There's nothing between LVP flooring, so it's a continuously flat, smooth surface. Unlike tiles with grout and other fillings, these planks are connected so closely together that they're practically a non-stop vinyl material from one side of the room to the other. You can choose luxury vinyl tile floors if you prefer using grout.
Vinyl is very slippery. Vinyl is a variation of plastic that's extremely slippery since it doesn't have anything to do with grip. It's almost the polar opposite of rubber in terms of texture and grip, but it's very similar in the sense that it's much more forgiving for falls than ceramic tiles, hardwood floors, and cement.
These floors don't wick away moisture very well, so they're much more slippery than most other floors when they're wet. Porous floors absorb some of the moisture, encouraging natural evaporation. That being said, luxury vinyl planks are some of the most slippery floors when they're wet or oily.
We have found grease from the stove, or even using stainless steel cleaner on the appliances makes the floors very slippery from the spray that gets on the floor. Using the right cleaners is important to prevent the LVP floors from getting permanently damaged. Some solutions can remove the non-slip coating on LVP floors, making them significantly more likely to become slippery or shift.
How To Make Luxury Vinyl Plank Flooring Less Slippery and Avoid Slipping
To make luxury vinyl planks less slippery, follow these steps:
Add a non-slip coating to the LVP flooring. These coatings come in spray form, liquid, paste, and more. Once they dry, they add a thin layer that prevents the floors from being too slippery. They also restore the color of your LVP floors and make them look shiny and new.
Opt for the right kind of cleaning solution to avoid stripping the vinyl from the planks. We highly suggest sticking to vinyl floor cleaning supplies since they prevent the floors from getting scratched or dirty. Harsh chemicals are the last things you want to use to treat luxury vinyl plank flooring.
Covertec Products recommends replacing your luxury vinyl planks with luxury vinyl tiles if you want something less slippery. The tiles often have grout between them, drastically reducing the chances of slipping and sliding. However, many types of luxury vinyl tiles (LVT) don't have grout. Ensure you know which is best for you.
Add non-slip pads around the LVP flooring (you can use shop mats if your LVP floors are in a garage or a workshop). The wider the space, the more likely you are to slip. Using non-slip mats, rugs, and carpets around the sink or refrigerator area will make it much easier to walk around your luxury vinyl plank flooring without sliding too much.
The Slip Doctors Anti-Slip Spray (available on Amazon.com) works for wood and vinyl flooring and is perfect for use around the sink floor or refrigerator for water that spills from the ice maker. One can is enough for 20 square feet (1.86 square meters). This solution shines luxury vinyl planks, but make sure you clean the floor beforehand for the best results. It's also non-toxic and safe for pets and people to walk around without chemical fumes or scratch marks.
Unfortunately, these floors are almost always a little bit slippery. Even brand-new LVP floors can cause you to slide around if you're wearing socks or soft slippers. They often provide decent traction for textured rubber shoes, but they get much slippier when there's moisture on the floor. Read on to learn how wear and tear can affect its traction.
Can LVP Flooring Lose Its Traction?
LVP flooring can lose its traction if the upper layer is stripped with harsh chemicals. These ingredients can deteriorate the vinyl or the non-slip coating, causing the floors to feel much slipperier than they used to. Additionally, loose planks can make your floors shift around, making them slippery.
So, why does LVP lose its traction over time?
Poor cleaning routines or a lack of proper maintenance will ruin the protective coating. Natural body oils and spills can make your floors slippery. Furthermore, they can damage the upper coating, vinyl conditioner, and other cleaning solutions. We recommend cleaning your floors weekly, then deep-cleaning them monthly.
Abrasive materials can grind and wear down the textured surface. This includes steel wool, plastic-bottom shoes, cleats, and many other materials. Never use anything gritty on your luxury vinyl plank flooring. It can make them much smoother than they already are, causing them to be even more slippery.
Luxury vinyl floors usually only last a couple of decades. Once they wear down, they begin to shift and lose their tongue and groove reliability. Not only does the worn smoothness make the floors feel slippery, but the shifting grooves make them even worse for walking and sliding.
Much like putting a fire pit on composite decking, you shouldn't put anything hot directly on LVP flooring. Extreme temperatures cause vinyl floors to flex, expand, and contract. This damages the grooves and smooths the surface. Your vinyl flooring will look warped and cracked, too.
Here's how you can prevent it from becoming much more slippery:
Avoid abrasive brushes, sponges, and rags when cleaning luxury vinyl plank flooring.
Don't use acidic cleaning solutions since vinyl is damaged by low-pH chemicals.
Clean your LVP flooring once per week to prevent them from getting too grimy or oily.
Sweep the LVP floors to stop hair and dander from making them more slippery.
Is Luxury Vinyl Plank Flooring Too Slippery for Rugs?
Luxury vinyl plank flooring isn't too slippery for rugs because you can use a non-slip rug mat. Many rugs have built-in non-slip mats, too. In fact, rugs are some of the best ways to prevent your luxury vinyl plank floors from feeling too slippery, whether or not the planks have a non-slip coating or vinyl conditioner applied.
Non-slip rug mats are usually the better choice because you can mix and match the rug. Make sure you get a mat that's a couple of inches smaller than the rug to prevent it from sticking out around the edges. These mats don't need adhesives, so they can be removed quite easily.
For example, this Non-Slip Rug Pad (available on Amazon.com) comes in multiple sizes ranging from 2' x 3' (24-36 inches) to 10' x 14' (120-168 inches). If you get an oversized non-slip pad, you can cut it down to size. In other words, it's always better to get a rug pad that's a bit bigger than the rug than one that's far too small.
Is There Non-Slip Luxury Vinyl Plank Flooring?
There's non-slip luxury vinyl plank flooring that comes with a textured upper layer or a special coating that prevents slipping. Both solutions are much safer than untreated vinyl planks. They're a bit pricier, and they require special cleaning solutions. The coating can lose its effectiveness over time, but the textured planks usually maintain their non-slip properties.
Keep these things in mind if you want to get non-slip luxury vinyl plank flooring:
Most non-slip LVP flooring is more expensive than traditional LVP flooring. It's worth factoring the cost into your final decision (if you're still in the market for a new set of luxury vinyl plank flooring). You can also get regular LVP floors and use the previously mentioned treatments to make them as non-slip as possible.
According to Gerflor, there are levels of slip-resistant luxury vinyl plank floors. These ratings determine how much resistance your LVP floors will have. The higher the number, the more slip resistance you can expect. Most high-quality non-slip luxury vinyl plank flooring has a rating between 10 and 12.
There are major differences between slip-resistant coatings and textured non-slip floors. A non-slip coating can often be restored or polished to a similar quality as the first coating. On the other hand, a textured non-slip LVP floor typically lasts longer because the texture is hard to wear down.
What is the best non slip flooring?
Natural stone is the best choice for non slip flooring. Second to natural stone is textured vinyl. Textured vinyl flooring will have ridges and texture within the pattern and provide traction even in wet situations.
Final Thoughts
While luxury vinyl plank flooring is often slippery, there are many ways to add traction and prevent it from becoming hazardous. Whether you prefer non-slip LVP floors or covering the ground with rugs, you can ensure that you won't trip or slide when walking on this stylish, visually appealing flooring.